Let's talk about the one outfit that effortlessly encapsulates grace, tradition, and timeless elegance – the saree. A canvas of creativity, a piece of art that drapes around you, making you the masterpiece of any occasion.
While sarees come in countless varieties, it's the curated collection that truly stands out. In this article, we invite you to explore the world of exquisite sarees thoughtfully curated by 'Summer by Priyanka Gupta'. This is not your generic list of sarees; it's a meticulously chosen selection that promises to elevate your wardrobe and transform every occasion into a showcase of timeless beauty and craftsmanship.
Let's delve into the details of the 10 must-have sarees for every woman, each portraying a unique story of elegance and charm.
Ivory Hydrangea Saree
Fabric: Organza
This ethereal ivory saree is adorned with delicate hydrangea embroidery that blooms across the fabric. The lightweight organza fabric drapes gracefully, making it perfect for a summer soiree. The intricate floral embroidery adds a touch of enchantment to the ensemble, capturing the essence of a blooming garden.
Adena Rays Saree
Fabric: Georgette
The Adena Rays Saree is a manifestation of sunshine and warmth. Crafted from Georgette, the saree exudes elegance and comfort. The sunburst embroidery in gold sequins and cutdana adds a radiant touch, making it ideal for both daytime events and evening gatherings.
Make a lasting impression with this versatile saree, suitable for any celebration or "engagement." Step into the spotlight and enchant with effortless grace.
Teal Dandelion Saree
Fabric: Georgette
The Teal Dandelion Saree is a masterpiece in teal chiffon fabric and embroidered corset blouse. Its intricate dandelion embroidery, adorned with sequins brings a sense of whimsy and sophistication. This saree perfectly captures the essence of summer breezes and blooming fields.
Ivory Adena Poncho Saree
Fabric: Chiffon
Unveil your contemporary style with the Ivory Adena Poncho Saree. The innovative design features an ivory poncho-style top with delicate sequin and cutdana embroidery. The chiffon saree gracefully complements the ensemble, making it a statement piece for your summer events.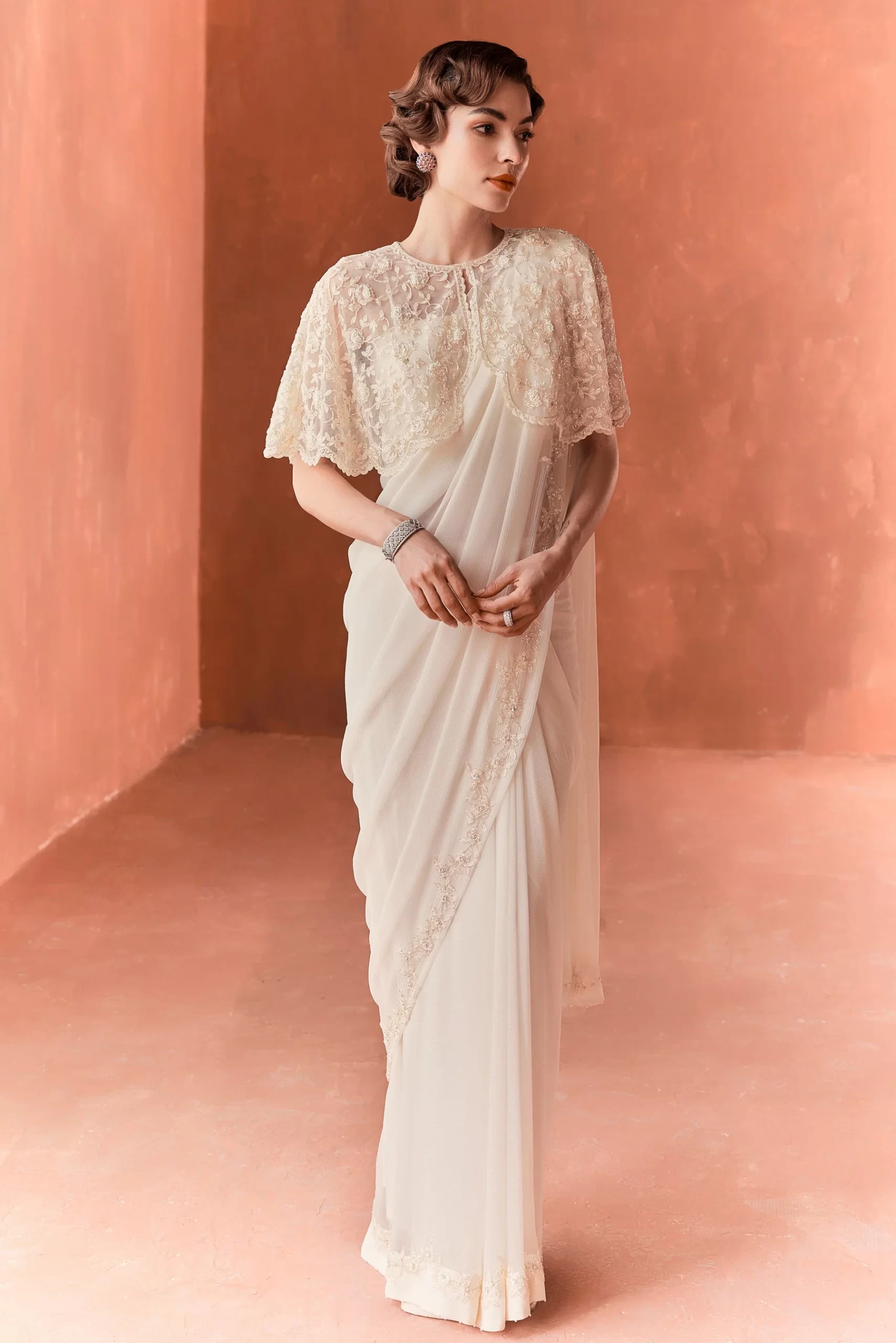 Monsoon Saree
Fabric: Silk Mul
Crafted from luxuriant silk mul, this Monsoon Saree from our signature collection is a timeless piece of artwork. Lovingly adorned with careful, light embroidery, this exquisite saree is the perfect accessory for any occasion and offers a unique combination of sophistication, class, and elegance.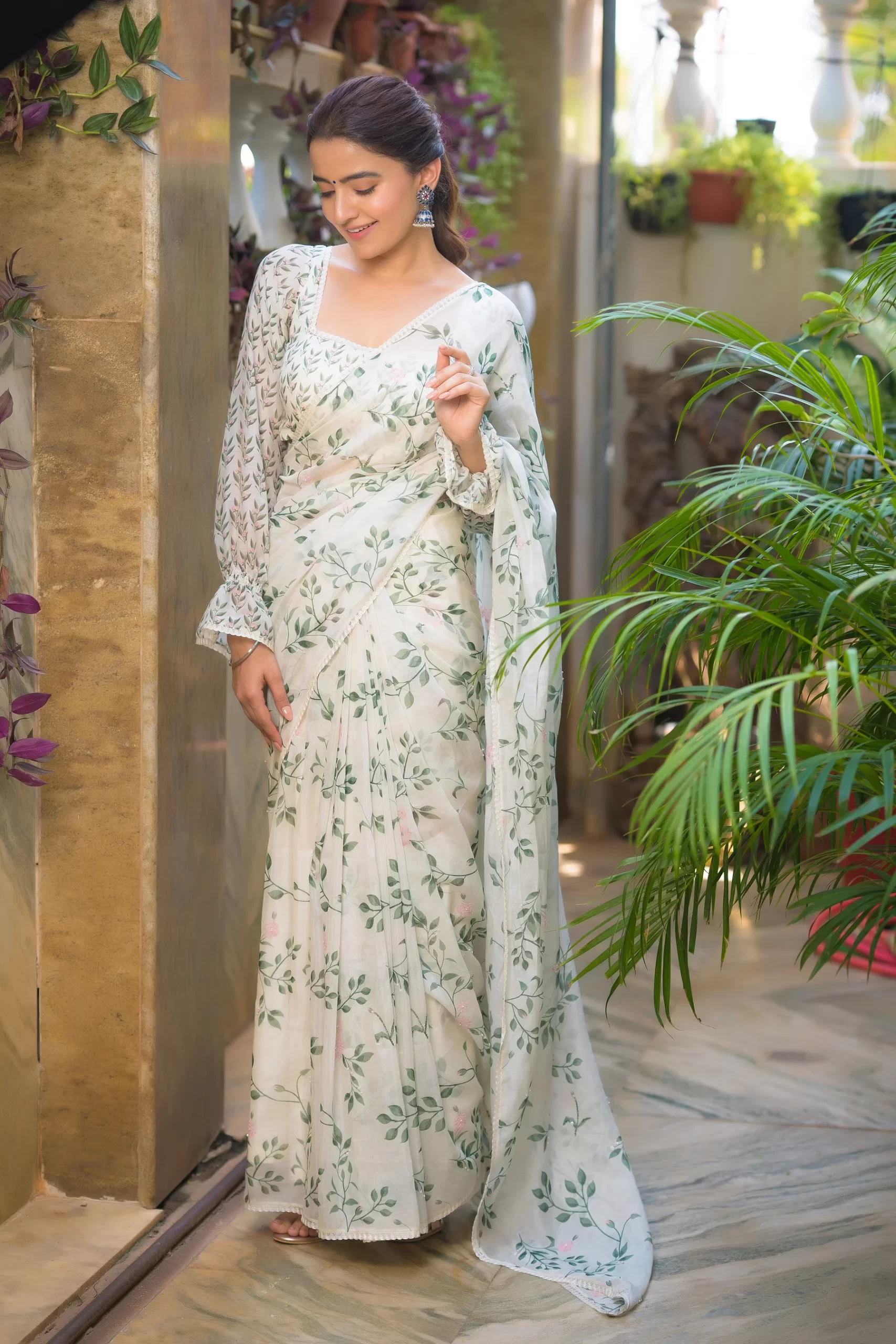 Blue Summer Grape Saree
Fabric: Silk Organza
The Blue Summer Grape Saree is a stunning portrayal of elegance. The saree's rich grape hue is enhanced by delicate sequin hand embroidery. Crafted from silk organza, it drapes like a dream, capturing the essence of a cool summer evening.
Dutch Garden Saree
Fabric: Organza
With a vibrant color palette and intricate embroidery, the Dutch Garden Saree is a true masterpiece. The organza fabric lends a flowing elegance, while the floral embroidery adds a touch of glamour inspired by a picturesque garden.
Pink Gota Mirror Saree
Fabric: Organza
The Pink Gota Mirror Saree is a celebration of feminine charm. The delicate pink organza is adorned with gota and mirror work, creating an enchanting fusion. The intricate detailing adds depth to the saree, making it a perfect choice for romantic summer evenings.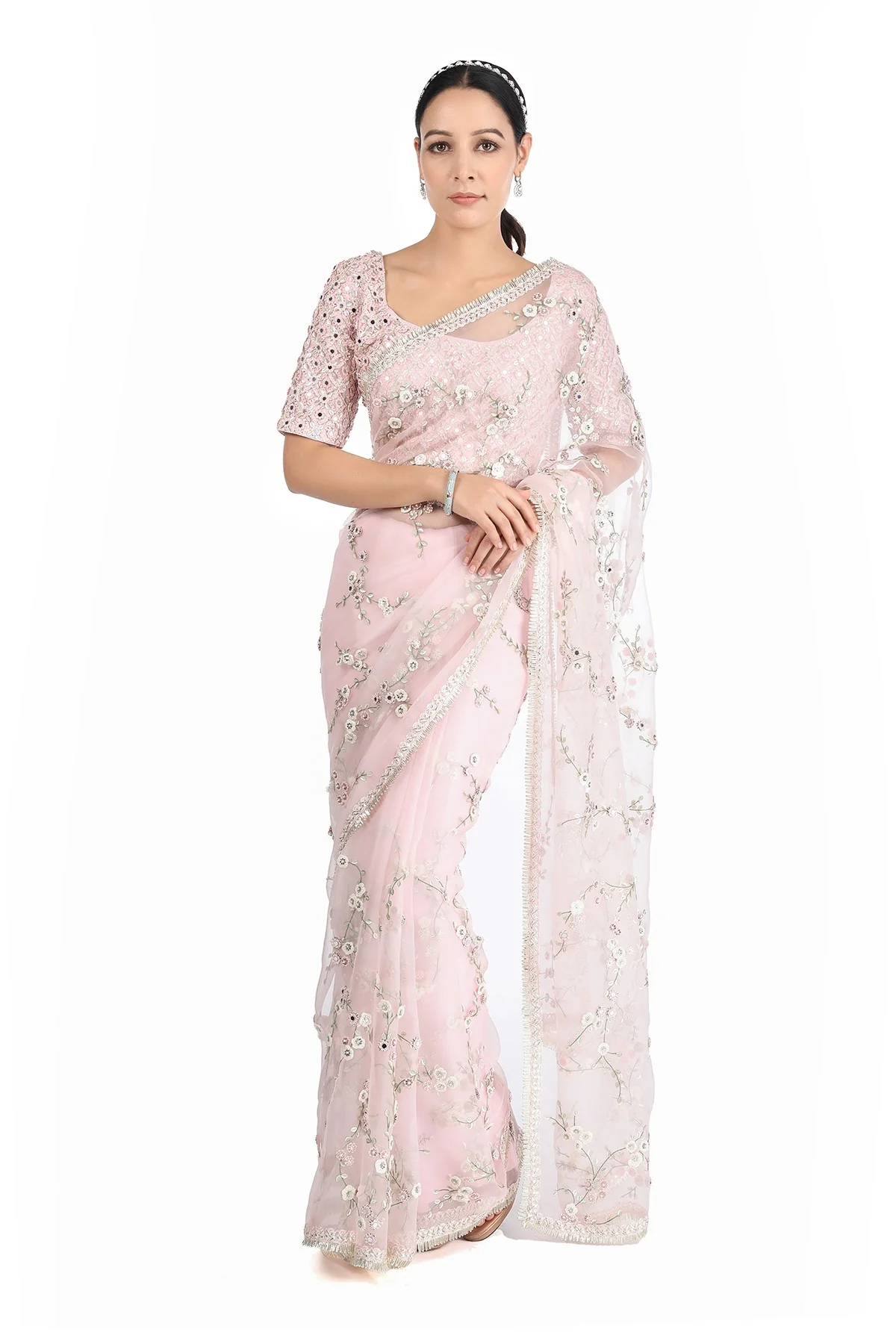 Wild Rose Dori Saree
Fabric: Organza
Discover the allure of our Wild Rose Dori Saree, a captivating masterpiece adorned with delicate pearls, sparkling sequins, and intricate thread work. Embody elegance and unleash your feminine charm. Perfect for all occasions.
Pink Hiraya Saree
Fabric: Chiffon + Raw Silk
The Pink Hiraya Saree is a vision of elegance and grace. The saree features delicate threadwork and sequin embellishments, creating an ethereal and feminine look and adds a touch of shimmer to the soft pink chiffon fabric. It's a saree that embodies the dreams and aspirations of summer.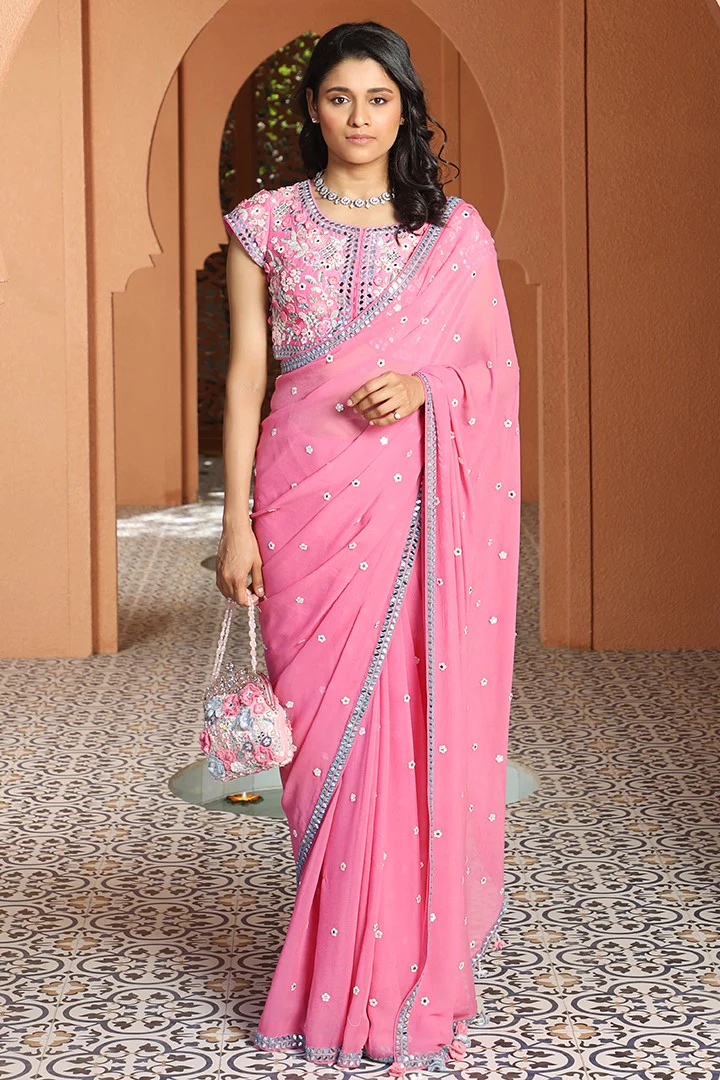 Final Thoughts
The 'Summer by Priyanka Gupta' collection unveils a world of elegance, sophistication, and contemporary charm. Each saree is a masterpiece that combines luxurious fabrics and intricate embroidery to capture the essence of the season. From georgette to chiffon, and sequins to cutdana, these sarees celebrate the beauty of summer and the artistry of traditional craftsmanship. With a touch of innovation and pastel colors, these sarees are a must-have for every woman seeking to make a statement of grace and style.