The saree. That timeless piece of elegance that drapes you in tradition and grace. You've got that gorgeous saree ready to drape, but what about its trusty sidekick? That's right, we're talking about the blouse. it's the Robin to your Batman, the Watson to your Sherlock, the butter to your toast – you get the picture! A blouse can make or break your saree game, and we're here to help you ace it. So, let's embark on a journey to choose the perfect blouse that complements your saree, body type, and oozes your unique style.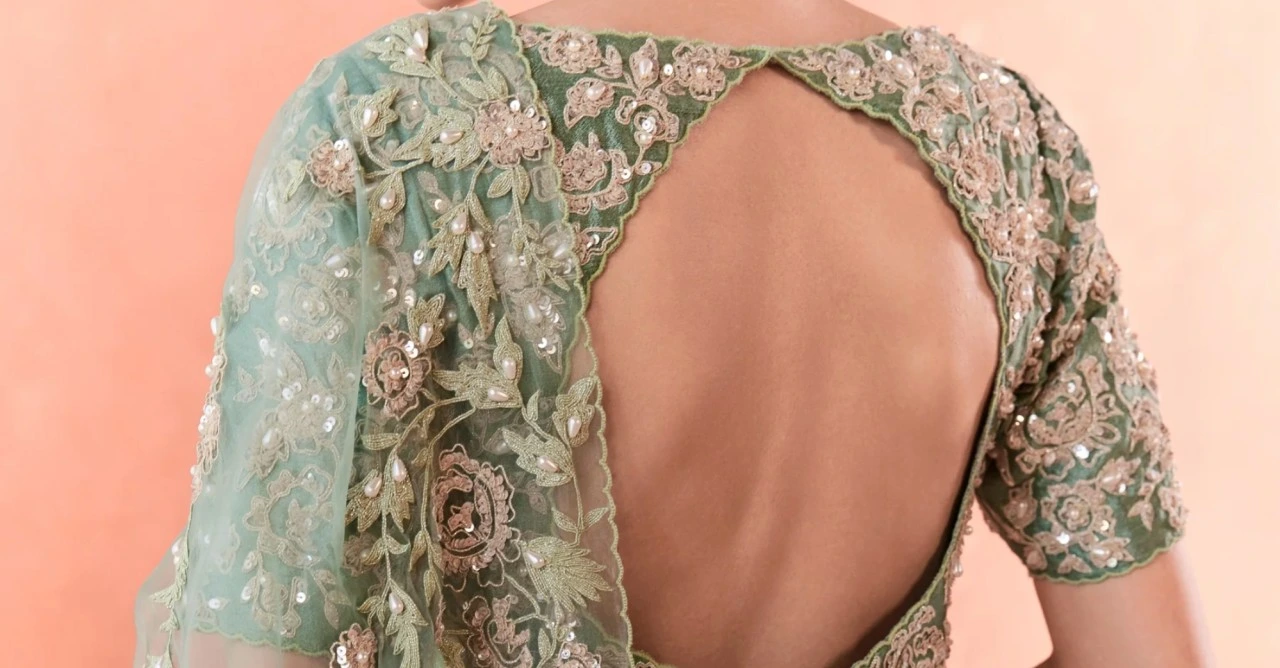 Choosing a Blouse According to the Saree Design
Matchy-Matchy or Bold Contrast
Deciding between a matching blouse or a contrasting one can be a real brain teaser. If your saree boasts a busy design or vibrant colors, a subtle, matching blouse can be a safe bet. However, if you want to unleash your inner fashionista, go for a contrasting blouse that makes the saree's colors pop.
Embroidery and Embellishments
Choose embroidery that complements the saree. If your saree is already heavy with work, opt for a simpler blouse. Conversely, if the saree is subtle, go for an intricately embroidered or embellished blouse to add drama.
Embrace the Theme
If your saree has a specific theme or regional influence, let your blouse join the party! Incorporate traditional motifs or elements that match the theme.
Neckline Choices
The neckline of your blouse can significantly impact your overall appearance. Here are a few options to consider:
Round Neck: A classic and versatile choice that suits most sarees. It's a safe option for a traditional look.
V-Neck: A V-neck elongates the neckline, adding a touch of sophistication. Perfect for sarees with heavy work or embellishments.
Square Neck: This neckline adds a modern twist and works well for sarees with simple designs or traditional motifs.
Halter Neck: If you're looking for a contemporary and bold look, a halter neck blouse can be a great choice.
Back Designs
The back design of the blouse can add a dose of glamour. Consider these options:
Backless: A daring and stylish choice for sarees with lighter embroidery or prints.
Keyhole Back: This design adds a subtle hint of elegance while maintaining a classic look.
Cutout Back: For a mix of modern and traditional, opt for a blouse with artistic cutout patterns.
Sheer Back: Sheer fabrics or net panels at the back create an enchanting effect, especially for evening events.
Sleeve Styles
Sleeve options can vary to match the formality of the occasion and your personal preference:
Sleeveless: Perfect for showcasing your shoulders and arms. Ideal for lightweight and casual sarees.
Cap Sleeves: Adds a touch of femininity and suits various saree styles.
Short Sleeves: Versatile and suitable for most sarees, striking a balance between coverage and style.
3/4th Sleeves: Elegant and suitable for both casual and formal occasions.
Full Sleeves: Great for chilly weather or when you want a more covered look. Ideal for heavy sarees.
Fabrics
Silk Blouses: Luxurious silk blouses are perfect for weddings and formal events, adding a touch of elegance to your ensemble.
Chiffon Blouses: Chiffon blouses are ideal for evening gatherings, bringing a touch of sophistication to your look.
Georgette Blouses: Georgette blouses strike a balance between elegance and comfort, suitable for various semi-formal occasions.
Organza Blouses: Organza blouses exude sheer elegance, making them a great choice for upscale events and parties.
Sequined Blouses: Sequined blouses bring glamour to evening parties and special occasions, catching the light beautifully.
Embroidered Blouses: Embroidered blouses, depending on the type of embroidery, can be worn to weddings, festivals, and semi-formal gatherings.
Choosing a Blouse According to your Body Type
Each body type has its unique charm, and selecting the right blouse can accentuate your best features. From apple-shaped to plus-size, here's a guide to help you find the ideal blouse style for your body type.
Apple Body Type
If you have a heavier upper body with a fuller bust, broad shoulders, and slender arms and legs, you have an apple-shaped body.
What To Wear:
Opt for elbow-sleeved or full-sleeved blouses in solid colors to balance proportions. Lighter fabrics like chiffon or georgette can flow gracefully over your figure.
What Not To Wear:
Avoid heavily embellished blouses or those with intricate neckline details. Plunging necklines may not be the best choice for this body type.
Pear Body Type
Pear-shaped bodies have a smaller upper body and a wider lower body with fuller hips and thighs.
What To Wear:
Choose blouses with wide necklines or boat necks to create the illusion of a broader upper body. Flutter sleeves or cap sleeves can add balance to your figure.
What Not To Wear:
Avoid blouses with heavy embellishments on the hips or waistline, as they can draw attention to those areas.
Hourglass Body Type
Characterized by a balanced bust and hips with a well-defined waist, the hourglass body type exudes a classic and curvaceous silhouette.
What To Wear:
Accentuate your waistline with fitted blouses that highlight your curves. Sweetheart necklines and princess seams work well to enhance your figure.
What Not To Wear:
Avoid loose-fitting blouses that hide your waist. Oversized or boxy blouses can mask your natural curves.
Rectangle Body Type
For those with a balanced bust and hips but with less-defined curves, the rectangle body type focuses on a straight silhouette.
What To Wear:
Experiment with peplum blouses or those with ruffles to add volume to your bust and hips. Halter necklines and off-shoulder styles can create the illusion of curves.
What Not To Wear:
Avoid blouses that are too loose or boxy, as they may emphasize your straight figure.
Inverted Triangle Body Type
With broader shoulders and a narrower waist and hips, the inverted triangle body type can benefit from creating balance.
What To Wear:
Choose blouses with V-necklines to soften the shoulder line. Ruffle details, cowl necks, or embellishments around the waist can add volume to the lower body.
What Not To Wear:
Avoid high-neck blouses or those with heavy shoulder detailing, as they can accentuate your broader shoulders.
Oval Body Type
Oval-shaped bodies have a well-rounded midsection with a proportionate bust and hips.
What To Wear:
Opt for blouses with empire waistlines that flow over the midsection. Scoop necklines and A-line blouses can help create a balanced look.
What Not To Wear:
Avoid blouses that cinch at the waist or have narrow belts, as they may emphasize the midsection.
Lean Column Body Type
With a slim and balanced figure, the lean column body type can pull off various blouse styles effortlessly.
What To Wear:
Experiment with various necklines, sleeve lengths, and embellishments. High necks, deep V-necks, and statement sleeves can all complement your figure.
What Not To Wear:
As a lean column, you have the flexibility to try different styles. Avoid overly loose or shapeless blouses that may hide your frame.
Athletic Body Type
An athletic body type boasts a well-toned physique with balanced proportions.
What To Wear:
Opt for blouses with cutouts, cold-shoulder styles, or halter necklines to highlight your well-defined arms and shoulders. Peplum blouses can add femininity.
What Not To Wear:
Avoid blouses that are too loose or shapeless, as they may hide your muscle tone.
Petite Body Type
Petite individuals have a smaller frame with balanced proportions.
What To Wear:
Choose blouses with shorter lengths and minimal embellishments to avoid overwhelming your figure. Vertical stripes and high necklines can create the illusion of height.
What Not To Wear:
Avoid overly long blouses that may make you appear shorter. Big prints or heavy embroidery can also overpower your frame.
Plus-Size Body Type
For those with curvier figures, the plus-size body type calls for flattering blouse styles.
What To Wear:
Opt for blouses with structured silhouettes that enhance your curves. V-necklines, A-line blouses, and dark colors can offer a slimming effect.
What Not To Wear:
Avoid boxy or shapeless blouses that may hide your figure. Tiny prints or overly small patterns can also overwhelm your look.
Final Thoughts
Choosing the perfect blouse isn't rocket science – it's all about knowing your style, your body, and a dash of experimenting. So, the next time you drape that saree, remember, the blouse is your partner-in-glam. Be fierce, be fabulous, and let your saree style shine!