From the pen girl behind her books to a style and content curator, working on both the sides of the camera, Tarini Bhatia unravels the idea of working in two areas of the business.
As a creative personnel, she understands the need of the hour and is working in collaboration with brands to promote their untouched potentiality by providing an in-house curation of an articulated shoot with a hint of her personal style.
With her second book at its publishing stage, Tarini is a real Summer muse. Our designs match her love for what she does with fresh colours and exquisite artisanal detailing. The playful-yet-powerful looks compliment her personal style.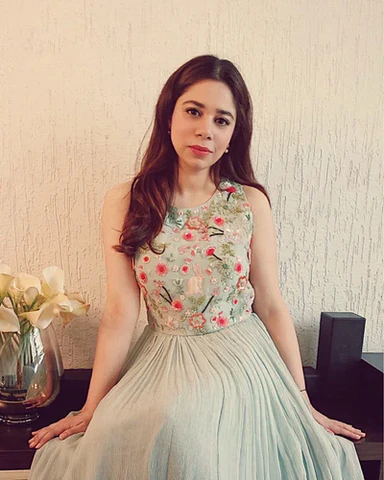 In our first conversation itself, Tarini struck us as someone extremely polite and practical, qualities we really value in people we work with.

On further prodding, we also discovered that she's an animal lover and cares deeply about their welfare…

"The first time I visited an animal shelter, I was 11 and at that very age I knew that I wanted a small space of my own that would be a home and shelter for animals. From the age of 18, I started volunteering at SPCA.
Every time I visit the shelter I feel full of love, not just for animals but the people who have chosen to devote their lives to helping animals in need and taking care of them. It takes a lot and what they do is commendable!
I bought medicines and food in the maximum quantity that I could from my first salary and I don't think I've ever felt so contented earning money and spending it on any materialist purchase.
I truly believe in the fact that you're full of love when you spread happiness and help those in need. Saving the Eco system has become the need of the hour and I genuinely wish that humans become more considerate towards those who can't speak for themselves."

Tarini is beautiful, intelligent, and also has a heart! #mysummergirl 💕