Ladies, it's time to add that extra oomph to your saree game! Accessorizing isn't just about throwing on a few pieces – it's an art, a statement, a conversation starter. So, ladies, let's embark on a delightful journey through 10 charming accessories that'll take your saree game from ordinary to extraordinary. Buckle up, because we're about to dive into the world of fabulousness.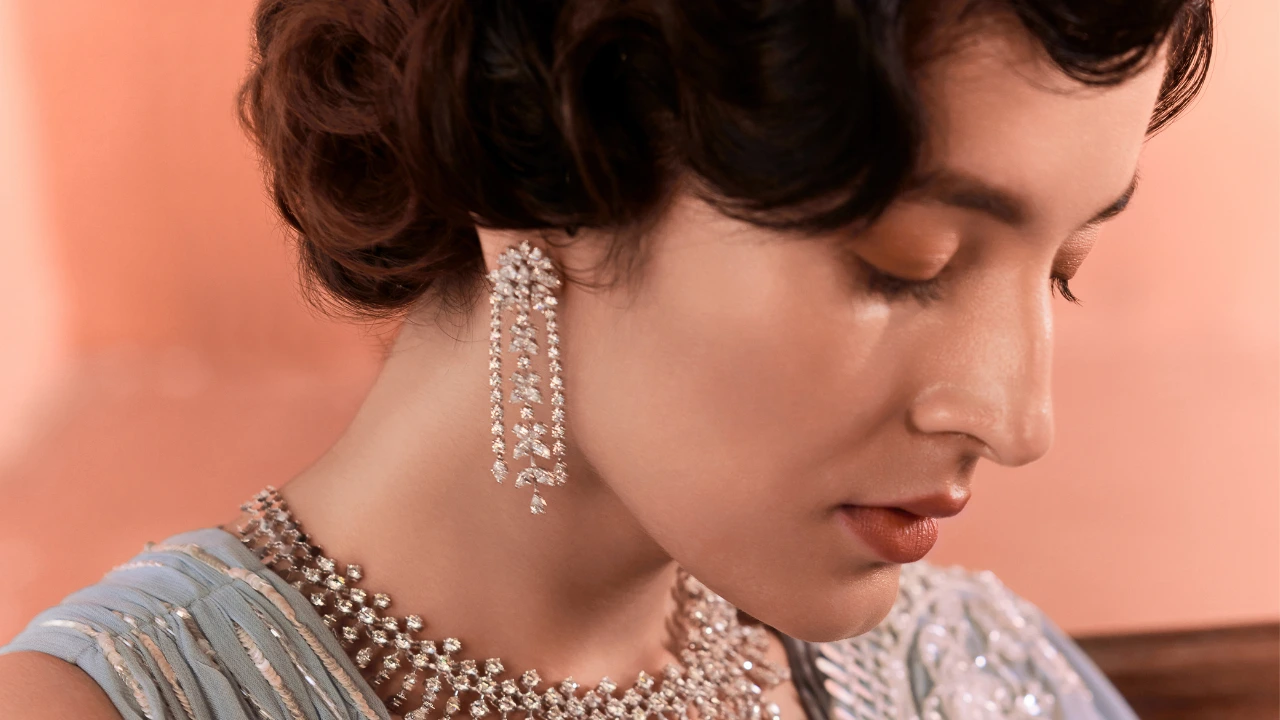 Dazzling Earrings – Swingin' by Your Ears
Earrings are the unsung heroes of the accessory world. Hoops, jhumkas, studs – they're your sidekicks, your partners-in-crime! For a classic saree, opt for dangly jhumkas to channel your inner Bollywood diva. Going bold? Hoops, babe, hoops! Pair them with a contrasting blouse and let the world know you're here to slay.
Necklaces that Make Statements (Louder Than a Megaphone)
Necklaces aren't just accessories; they're conversation starters. A delicate pearl strand for a touch of elegance, a chunky tribal necklace for a fierce edge – your neck deserves to make a statement too. Remember, when in doubt, pile it on; you're creating a masterpiece!
Bindis – Dotting the 'i' in FABULOUS
Who says only words need punctuation? Bindis are the exclamation points of your face! From a teeny dot for subtlety to elaborate designs for drama, these little wonders pack a punch. Go matchy-matchy or contrast like a true fashion warrior – the choice is yours.
Bangles – Stack 'Em High and Proud
Bangles aren't just arm candy; they're an orchestra of style. Mix 'n' match, stack 'em up – these tinkling wonders announce your entrance like trumpets at a royal procession. Feeling the traditional vibe? Choose metal bangles. Going contemporary? Experiment with wooden or acrylic ones.
Belts – Cinching Your Saree Lovin' Waist
Belts are like the waist-hugging superheroes of your saree ensemble. They cinch your waist and scream, "Check me out!" Pair a sleek metallic belt with a solid saree for a modern twist, or rock a bejeweled one to add some serious pizzazz.
Anklets – Making Footsteps Worth Noting
Anklets – they're the applause to your footsteps! These dainty chains of joy add a touch of charm to your saree game. Opt for delicate silver or gold anklets to channel your inner ethereal goddess. Or go boho-chic with colorful beads – it's your foot, and the world is your runway!
Footwear – The Sturdy Foundation
Your saree look is incomplete without the right pair of shoes. If you're going for a traditional look, embellished mojaris or juttis are the perfect choice. For a more modern vibe, strappy heels or embellished sandals can add a dash of glamour to your ensemble.
Hair Accessories – The Crowning Glory
Don't forget to adorn your tresses! Decorative hairpins, clips, and hairbands can enhance your hairstyle and complement your overall look. Floral hair accessories are a great choice for a fresh, summery feel.
Clutches and Potlis – The Saree's BFFs
A chic clutch or an embroidered potli bag can be the perfect finishing touch to your saree look. Choose one that matches your saree's theme and color scheme to keep your essentials handy and stylishly stowed.
In Conclusion: Accessorizing – Not Just an Extra, but a Personality!
Remember, accessorizing isn't just about adding things; it's about expressing who you are. A touch of whimsy with anklets, a sprinkle of elegance with earrings – each accessory tells a tale. So, go ahead, mix, match, and make magic. After all, accessorizing is like painting – and your saree is the canvas!