As the sun turns up the heat, it's time to stash away those heavy fabrics and embrace the breezy elegance of summer sarees. While you might be tempted to sing praises to the AC, we're here to introduce you to fabrics that will help you keep your cool in a much more stylish manner.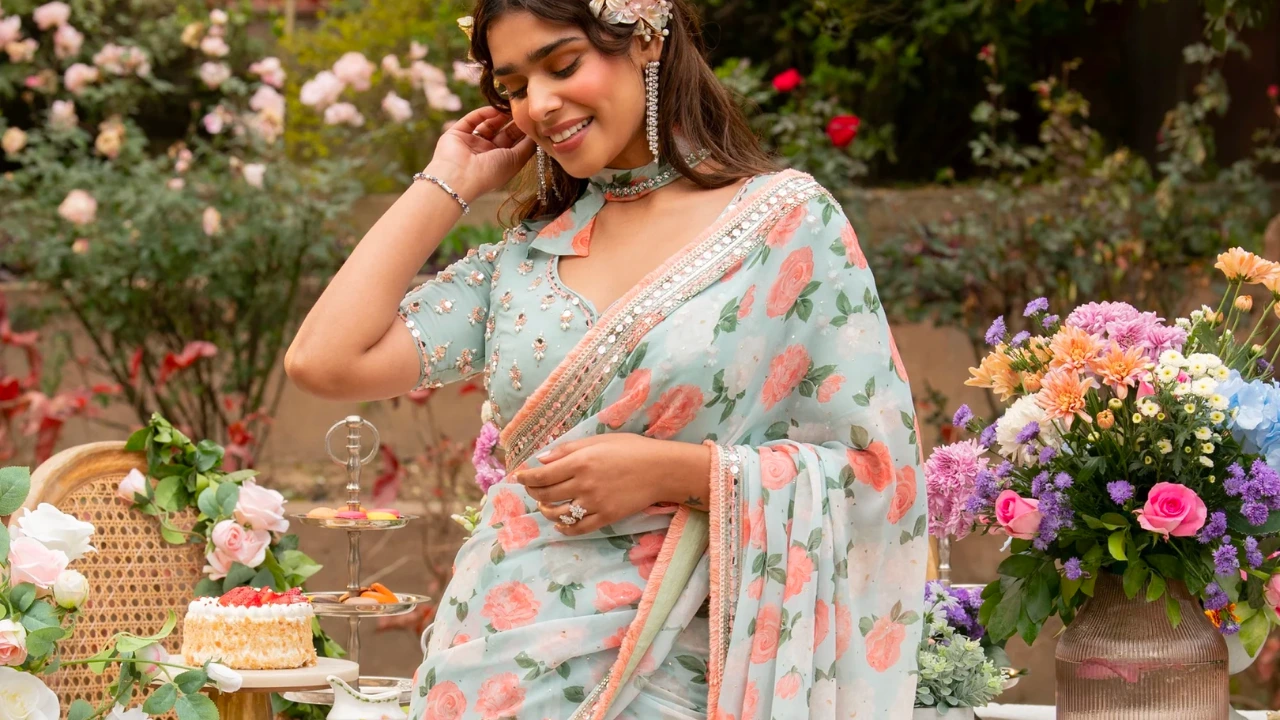 Get ready to drape yourself in comfort and sophistication as we unravel the top 5 fabrics for your summer sarees.
Georgette: The Feather-Light Wonder
When summer hits, the last thing you want is to feel like you're wrapped in a cocoon of fabric. Enter Georgette – the ultimate summer savior. This delicate, lightweight fabric floats around you like a whisper of fresh air, letting your skin breathe even on the hottest days. The sheer quality adds an ethereal touch, making it perfect for both casual outings and special occasions. With its slightly crinkled texture, you won't have to fuss over wrinkles either – embrace those effortless chic vibes.
Why It's Perfect
Georgette is the queen of lightweight fabrics. Its airy, flowing texture drapes like a dream and keeps you feeling cool even on the hottest days. Georgette sarees are perfect for those summer soirées when you want to sizzle without melting.
The Magic Properties
Breathable: Georgette's loose weave allows air circulation, preventing that uncomfortable stickiness.
Wrinkle-Resistant: No one wants creases in their saree. Georgette remains relatively crease-free, so you can focus on looking fabulous.
Elegant Drape: The fabric's fluidity makes it easy to drape gracefully, accentuating your curves in all the right ways.
Chiffon: Sheer Elegance, Unparalleled Comfort
If Georgette is the whisper, Chiffon is the gentle caress of a summer breeze. Known for its sheer elegance and unparalleled comfort, Chiffon is a dream to wear during the scorching months. The fabric drapes effortlessly, offering a fluid and graceful look that complements all body types. Whether you're heading to a beach wedding or a rooftop soirée, a Chiffon saree will have you feeling like the embodiment of summer charm.
Why It's Perfect
Chiffon is the epitome of ethereal elegance. Its sheer, delicate look is perfect for a summer afternoon soirée or an evening gala. You'll feel like you're walking on air!
The Magic Properties
Lightweight: Chiffon is feather-light and won't weigh you down, making it an ideal choice for summer parties.
Translucent: It's the go-to fabric when you want to show a hint of skin without revealing too much.
Comfortable: Chiffon's breathability is unmatched, keeping you cool and comfortable throughout the day.
Organza: The Delicate Darling
Ah, Organza – the fabric that turns every saree into a masterpiece. Picture this: a fabric that's light, sheer, and crisp all at once. That's Organza for you. This semi-transparent wonder adds a touch of luxury to your summer style, making you feel like you're stepping right out of a fairy tale. The fine texture holds intricate embroideries and embellishments flawlessly, ensuring you look nothing less than enchanting, whether you're attending a garden party or a cocktail evening.
Why It's Perfect
Organza is all about sheer opulence. It adds a touch of extravagance to your summer look while allowing you to stay cool and comfortable. Ideal for those special occasions when you want to stand out.
The Magic Properties
Luxurious Sheen: Organza's natural shimmer gives it an elegant, regal appearance.
Structured Draping: While it's lightweight, Organza holds its shape well, creating structured silhouettes that flatter your body.
Breathable: Despite its rich look, Organza is surprisingly breathable, making it perfect for summer evenings.
Silk Mul: Embrace the Sublime Softness
Silk Mul, often referred to as the 'summer silk,' is a true gift for saree lovers. Imagine the luxurious charm of silk combined with the breathable comfort of cotton – that's Silk Mul for you. This fabric drapes beautifully, offering a soft and delicate touch against your skin. The lightweight nature and excellent moisture-wicking properties keep you feeling fresh even in the peak of summer. It's your go-to choice when you want to exude elegance without compromising on comfort.
Why It's Perfect
Silk Mul, also known as Mulberry Silk, is the epitome of comfort and class. Its luxurious feel and breathability make it a top choice for summer.
The Magic Properties
Soft as a Breeze: Silk Mul feels incredibly soft against the skin, giving you a comfortable, cozy feeling.
All-Day Comfort: It's highly breathable, allowing you to wear it from morning brunch to late-night parties without breaking a sweat.
Subtle Sheen: Silk Mul's subtle shine adds a touch of sophistication to your summer style.
Cotton: The Quintessential Summer Companion
Ah, Cotton – the eternal favorite when the sun plays its fiery symphony. This fabric is like your trusty sidekick during summer – reliable, comfortable, and always ready to keep you feeling at ease. The natural breathability of cotton allows air to circulate, preventing that sticky feeling we all dread. Cotton sarees come in a plethora of prints and colors, ensuring you're ready for everything from lazy brunches to casual office days without breaking a sweat.
Why It's Perfect
Cotton is the classic choice for a reason. It's the most breathable fabric, making it the undisputed champion for summer wear.
The Magic Properties
Sweat-Wicking: Cotton's natural fibers wick moisture away from your body, keeping you dry and fresh.
Versatile: Whether you're dressing up for a formal event or enjoying a casual day out, cotton sarees are versatile enough for any occasion.
Easy Maintenance: Cotton sarees are low-maintenance, so you can focus on enjoying your summer adventures.
Step into Summer by Priyanka Gupta's Saree Wonderland
Now that we've unraveled the magic of these fabrics, it's time to indulge in some saree shopping! Head over to the saree collection at 'Summer by Priyanka Gupta' and explore an array of exquisite sarees that perfectly capture the essence of summer elegance. From Georgette to Silk Mul, you'll find the finest selection that's bound to make your heart skip a beat. Embrace the season with style and grace – because you deserve nothing but the best.
So, are you ready to drape yourself in comfort and charisma? These fabrics are your ticket to being the summer goddess you were meant to be. Sizzle through the season with the perfect sarees that let you shine, effortlessly blending fashion and functionality. Say hello to the sun, and let your sarees do the talking.